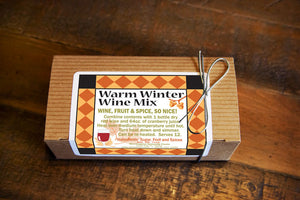 Comfort in a cup. Our Warm Winter Wine will become your favorite winter indulgence.
Add a bottle of Cranberry Juice and a bottle of dry red wine, simmer until just heated through. Your house will smell amazing as the warm spices permeate the air. You can heat this in a crockpot, coffee pot, or just a pot on the stove. Such an easy way to make your family and friends feel welcome during the cold weather. Great to serve for the holidays too.
If you have leftovers, pour it into a bottle and store in your refrigerator for up to 2 months, microwave a cup at a time. You can also top this with a shot of brandy, bourbon, rum or cinnamon schnapps to jazz it up even more. Cheers! 

Makes 16-6 oz. servings